Back to: Tweeting notes
What's new in A.nnotate 3?
Released in December 2008, A.nnotate 3 introduces a range of new features for anyone who works with documents or images. There are also a number of enhancements in the user model and access controls to meet the needs of business users.
Image annotation
In version 2, only the text could be annotated. Now you can click on any part of the page and select a rectangular or oval region.
Folders
You can now organize your documents in folders within your A.nnotate account, just as you would on your own computer.
You can browse documents by folder or show everything in a single searchable list.
Folders can be shared with other users who can choose to receive automatic notifications when new documents are added.
Home page and notifications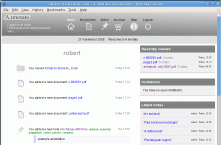 It is often important to see the latest additions to documents that your colleagues or clients are annotating. The new home page gives a quick overview of all the latest additions and annotations.
You can also set up email notifications so you hear about these changes either immediately, hourly or in a daily digest.
Thumbnail documents view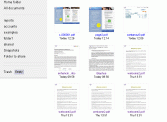 There are two views of the documents in a folder: a detailed listing with one item per line, and a tiled thumbnail view showing hte first page of each document.
In either case, a new menu on each document lets you move or rename it, edit the document properties and specify who it is shared with.
Text search within documents

The search box at the top right lets you highlight all occurrences of a particular term in the document. The arrows alongside let you page between them ready to annotate with a single click.
Strikethrough and insertion annotation styles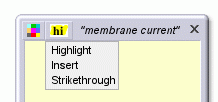 Three styles of annotation are supported: highlighting, insertions and strikethroughs. These change the way the selected text is marked on the page and can be used in the notes index to filter which notes are displayed.
| | |
| --- | --- |
| highlight: | |
| insert: | |
| strikethrough: | |
PDF export with annotations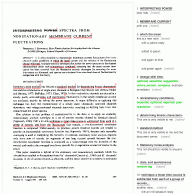 As well as the plain-text and CSV notes export, you can now export a PDF of the document with annotations in the margin for printing, archiving or sending by email.
You can export the whole document, or just those pages with annotations on.
Contacts lists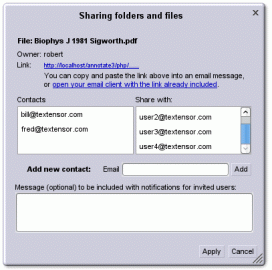 The process of sharing documents has been simplified and enhanced in several ways.
You can still send an email message with a link to each recipient, but you can also now do it all within A.nnotate. The sharing dialog remembers previous contacts and lets you pick them from a list as well as adding new ones.
Sharing settings can also be applied to folders now as well as single documents. This means you can set up sharing on a folder once and whenever you add a new document, everyone with access to the folder will be able to see it.
The new document will be linked from their home page, and, depending on their notification preferences, they may get an automatic email letting them know it is there.
Note visibility options
A new menu when writing a note lets you select between normal notes, private ones and feedback notes. The latter are only visible to the note author and the document owner.
This is intended for document reviews where you invite several people to annotate a document but do not want then to see each others comments. It can also be used in teaching and examinations where students annotate the same text but should not see what the other students are writing.
New options in the document properties dialog let you set the default privicy level and whether individual users can override it.
Next: Linking to notes