Online document management with A.nnotate
Whenever you upload a document to A.nnotate it converts it for quick display in the browser and keeps a link to the original PDF or Word version. Any time you view a document there is a download link to fetch the original so you can use A.nnotate for document management as well as collaboration and annotation.

Key features
Folders to organize your space
Tags and notes for each document
Thumbnail and detail views
Document index with search and sort
Notes index to find documents from the notes you added
Annotations of particular paragraphs and pages.

Combined with comprehensive folder based organization, this makes A.nnotate a convenient and effective way to store and share documents, images and web-pages online.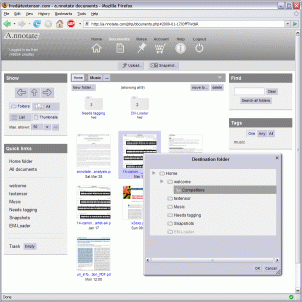 A.nnotate's greatest advantage over other on-line document storage system is the ability to tag and add notes to specific phrases, paragraphs or regions of each document. The annotated text is automatically put in your personal index where you can browse and search by tags and note text.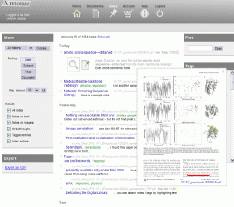 Often there are a few sections of a long document that are the most relevant. Unless there is an easy way to mark these, on-line storage can make it very slow to recover information. With A.nnotate, if you quickly tag the important parts as you read, then you soon have not just an unstructured collection of documents, but an organized private index to the precise phrases or regions of a page that you have marked.
By setting up shared folders you can effortlessly extend these benefits to other team members. And, at the same time, you can benefit from tags and notes that they add.
If you aren't already registered, try it now! It's completely free up to 30 pages a month.