Universities and colleges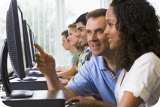 For a low annual fee per student, universities and colleges can run the A.nnotate service on their own systems and provide local A.nnotate capabilities for staff and students right across the organization.
This includes provision of on-line course materials in a form where students can make their own notes and lets students upload their own content such as assignments for on-screen grading.
Running A.nnotate services on your own hardware provides the assurance that uploaded documents remain within the organization and lets you comply with privacy and data protection requirements.
The Integration API enables A.nnotate to be integrated with other educational services. The open source Moodle plugin uses the API to allow annotation of documents from Moodle. If you are interested in plugins for other Learning Management Systems, then please get in touch.
Contact
Textensor Ltd.
Phone:
+44 (0)131 208 2026
Email:
sales @ nnotate.com
Fax:
+44 (0)131 464 4881
Post:
37 McDonald Road, Edinburgh EH7 4LY, UK.