Annotate Documents Online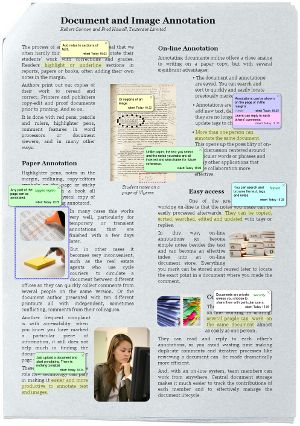 A sample document in A.nnotate. Click on the page or drag the magnifier to read the notes. Try some
live samples
.
A.nnotate is an online annotation, collaboration and indexing system for documents and images, supporting PDF, Word and other document formats. Instead of emailing different versions of a document back and forth you can now all comment on a single read-only copy online. Documents are displayed in high quality with fonts and layout just like the printed version. It is easy to use and runs in all common web browsers, with no software or plugins to install.

Hosted solutions are available for individuals and workgroups. For enterprise users the full system is available for local installation. Special discounts apply for educational use. A.nnotate technology can also be used to enhance existing document and content management systems with high quality online document viewing, annotation and collaboration facilities.

The free and subscription services are used by thousands of small businesses, researchers, students, designers and web developers. Enterprise customers include leading organizations in consultancy, finance, healthcare, insurance, universities, pharmaceuticals, publishing and the public sector.

2018 News!
A major new version of the service is now available at Annotate.co. This includes Workspaces, a scrolling PDF viewer, and fine-grained control over user roles and permissions. The original a.nnotate.com service (running 24/7 for customers since 2008) is still available (sign in at the top of the page), but we expect that new users will prefer to sign up for the new Annotate.co service.