Marking essays and assignments online with A.nnotate

If you are going paperless, "less paper", or paper-light, then A.nnotate can help with the marking!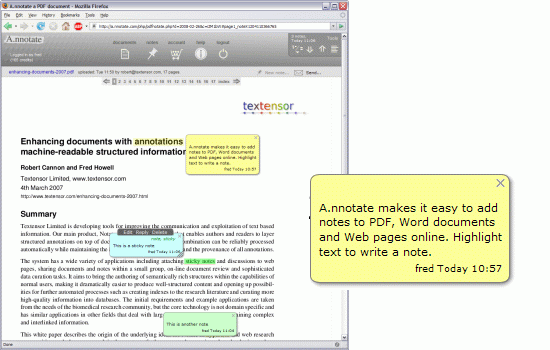 A.nnotate provides an easy and efficient way to mark essays and assignments online. Documents can be uploaded or emailed in as PDF file, MS Word documents, or in OpenOffice formats. It can also be integrated with Moodle and other learning management systems to provide feedback for online assignments.
You can select text and add a tag or write a note to give feedback. It is just like using a highlighter pen or writing notes in the margin, except you do it online, from any browser with no software to install.
Several tutors can mark the same document if necessary, even at the same time. And when it is ready, the student can be given access to the annotated on-line version.
A.nnotate is a low-cost standalone system that is easy to use and can be used today for online assessment. It can also be incorporated in existing document management systems - just get in touch for details.
Sign Up Now - all new accounts come with 150 free credits per month (enough for 30 online pages). Find out more... about other ways to use a.nnotate.
The A.nnotate Document annotator runs in the browser. There are no plugins or extra software to install, and it works seamlessly on Windows, Mac OSX and Linux. You do not need to wait for Adobe Reader, Acrobat or even Flash to start up as the A.nnotate PDF Annotator simply requires standard web browser technology. Everyone can annotate the same shared read-only copy of the PDF document online, so you can eliminate the usual problems associated with PDF comments - no need to merge and keep track of different edited versions send as attachments.
Other benefits and applications
A.nnotate is not just for online marking - you can use it give or provide feedback on drafts of documents and in everyday web research.
Your Personal Index of Annotations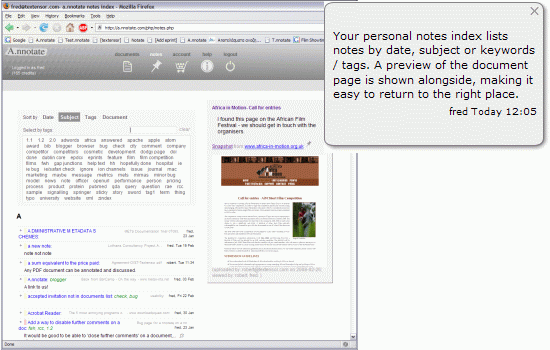 Annotate text with notes, tags and replies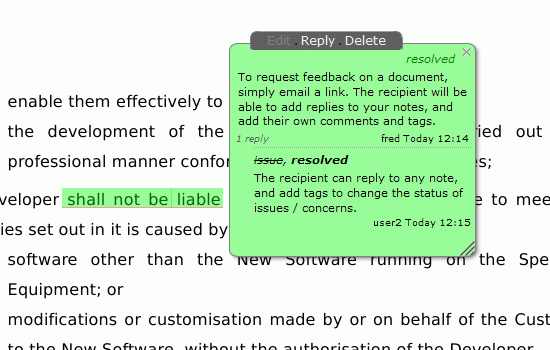 The A.nnotate PDF Annotator displays PDFs in high quality